Sailing in French Polynesia –
Day Eleven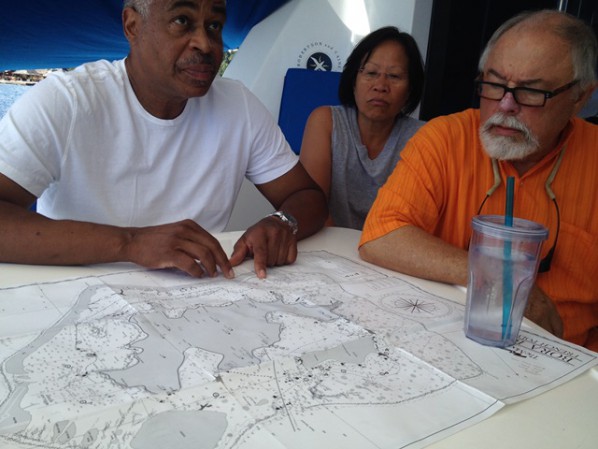 The Labyrinth
Woke up to roosters crowing. Scrambled eggs and pork loin for breakfast with juice and fruit. Ben talked about his trip to turkey with Deborah and William. They rented a fully staffed 95′ gullet for a cruise of the Adriatic, which ended in a stay in Istanbul. Great meals and service.  We also talked about Greece, and why independence was rejected by Martinique and Guadeloupe.
Navigated the very shallow and labyrinthine route to the windward side of the lagoon.  We anchored across from the lagoonarium. We had to proceed very slowly in a zig zag pattern in places. A great clinic in the hazards of lagoon navigation.
Susanna, Ben and Deborah swam with the sharks. Mom, Ben and William swam off the stern. I took a nap.
Next, we headed to Pointe Taurere to anchor just north of the coral garden. Ben and William swam off the stern.
Another squall bypassed us to the north…the wind got very squirrelly. Glad we were not sailing between islands today.
Started happy hour, burgers for dinner and watched the sun set behind Bora Bora.   We played the Black-eyed Peas, John Legend, Stevie wonder and Ray Charles.  Ben told us about Thailand, Vietnam and the merchant marines.   Then, a little dancing to samba right before bed.
Back to Album Directory
Day One
Day Two
Day Three
Day Four
Day Five
Day Six
Day Seven
Day Eight
Day Nine
Day Ten
Day Eleven
Day Twelve
Day Thirteen
Day Fourteen
Day Fifteen
Day Sixteen
Day Seventeen