Sailing in French Polynesia –
Day Fifteen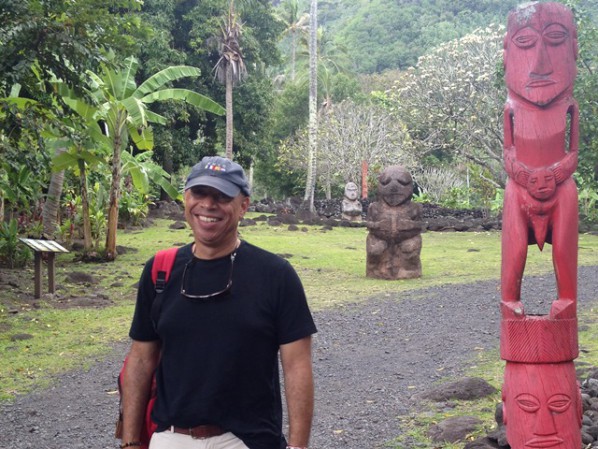 Cannibals, Human Sacrifices and Missionaries
Slept in. In a real bed. Nice. Enjoyed the continental breakfast at the hotel and called Dave's Tours. He was recommended by Don Chapman in Honolulu.
We were joined on the tour of Tahiti by an older couple from Australia who had just cruised the Marquises islands as passengers aboard a freighter: David and Margaret. They described a scene of amazing seaman ship as their crew turned their ship around in an inlet just a smidge wider than the boat.
Dave gave us the tour himself. He is originally from Honolulu, and advertises "VIP Tours in English."
As we toured the island,  Dave gave us a detailed history and a little glimpse of the future of the Tahitian people.  He discussed the competing theories of the origin of the Polynesian people…one arguing that they migrated from what is now Taiwan, and the other asserting that they hailed from what is now Peru.   He explained how the Peruvian theory has been discredited, leaving the established view that they all originated in Taiwan.   He talked about the early English and French explorers: Wallace, Cooke and Bougainville.   Then, he described how Queen Pomare balanced the interests of these super-powers with those of her people.    Throughout, he interjected stories of first the Protestant and later, the Catholic missionaries.    He showed us the beach where Marlon Brando greeted the natives in Mutiny on the Bounty….and also had white sand shipped in to make his navy blue uniform stand-out against the beach.  The sand is actually black.   He also gave us some insight into way the financial crisis in 2008 has hurt their local economy.  Finally, he told us about the island's 10-year plan to abandon their "no higher than a palm tree" rule, and begin to construct Waikiki-style high-rise hotels.
At the end of the tour, we visited an ancient temple.  While there, he said the missionaries ended cannibalism 100 years ago.   However, cannibalism didn't end in the Cooke Islands until early in the 20th century,  ended in Fiji in the 70's and still goes on in Papa New Guinnea.
The temples were used not only for religious and civic meetings, but to conduct human sacrifices.
Along the way, we saw One Tree Hill, Notre Dame, a blow hole, Brando's black beach, Venus Point with Robert Lewis Stevenson's commemorative plaque on a lighthouse designed by his fature.   It is also the site of Cooke's observation of Venus' transit…an important milestone in navigation history.   We also got to visit the water garden and Vaipoiri grotto.
Afterwards, we grabbed a late lunch in Pape'ete. Ribs and onion rings.
Crashed at the hotel until our flight left. We talked about missionaries, Marge's knee operation back home and my friend Amanda's divorce.
Raining as we left for the airport.
Had some coconut milk, limon grass and chicken soup on the plane and slept most of way to Honolulu.  So long, Tahiti.
Back to Album Directory
Day One
Day Two
Day Three
Day Four
Day Five
Day Six
Day Seven
Day Eight
Day Nine
Day Ten
Day Eleven
Day Twelve
Day Thirteen
Day Fourteen
Day Fifteen
Day Sixteen
Day Seventeen