Sailing in French Polynesia –
Day Five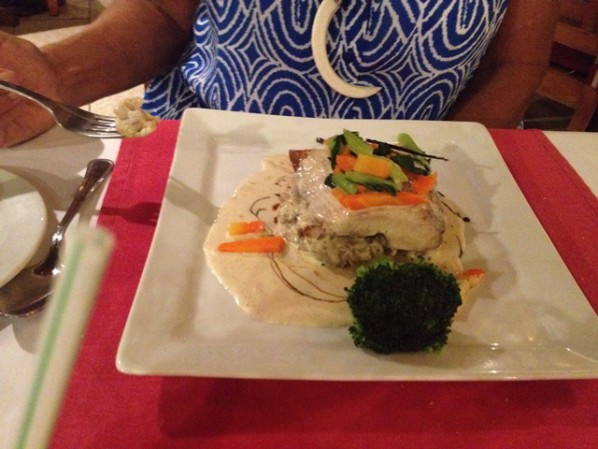 French, English, Francs, Dollars, Kilos and Pounds
We spent the morning in a torturous struggle to arrange our baggage so that we had minimal weight overage charges on the flight to Raiatea. We had to covert everything from English, pounds and dollars, to French, kilos and francs. Tres confusing. We finally gave up.
We walked downstairs for lunch, and I had the best sashimi ever. Artichoke mayo…awesome with sashimi, seared mahi.
Mateata arrived right on time and took us to the airport. Helpful and cheerful as always. We were never sure if she was a friend of the apartment owner or worked for the management company, but she was great.
Tahiti Air waived most of our baggage weight overage charges. What a relief!
Raining in Raiatea upon arrival. Ran a cross the Tarmac to the arrivals terminal. The shuttle to Hawaiki Nui hotel awaited.
We got three I rooms/huts right on the water. Each with it's own open air shower.
Dinner: lamb shanks. Mahi mahi w/ vanilla sauce, tuna and shrimp currie. Beautiful presentation. Tasted as good as it looked. A little dancing to the live band and an after party in Williams room.
Fell asleep to the sound of waves crashing just outside.   Woke up to sound of waves crashing just outside…put in earplugs.    Finally got some sleep.
$5.00/hr for wireless. Arrrg!
Back to Album Directory
Day One
Day Two
Day Three
Day Four
Day Five
Day Six
Day Seven
Day Eight
Day Nine
Day Ten
Day Eleven
Day Twelve
Day Thirteen
Day Fourteen
Day Fifteen
Day Sixteen
Day Seventeen