Sailing in French Polynesia –
Day Four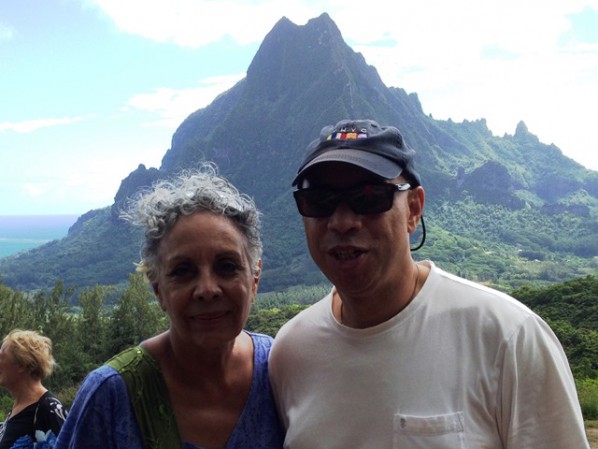 The Moorea Expedition
Early to rise.
Internet out again.
Had to run to catch the fairy…redirected to 4 different ticket booths before we could finally buy tickets.  All the while, we were watching at the gangplanks were being drawn. Made it.
The fairy was a jumbo catamaran. Hauled ass. Huge waves. Big spray. It was exciting. The wild island Moorea emerged from the distance.
While I was taking pix with William and Mom. Deb disembarked and started interviewing tour guides. Joe, just married and a lifelong Moorea resident, agreed to show us the island. Highlights: marriage customs, education system, island history, Mutiny on the Bounty w/ Brando,  Cooke's Bay, Opunohu's bay, juice factory, vanilla plantation, gardenia jam (tiare), pumpkin chili jam, the Polynesian omphalos mountain, ruins of an ancient temple, fresh cut pineapple, coconut from the gord and lunch at Sofitel overlooking the turquoise water.
Joe also showed us a plant that bears fruit when the whales are coming. Blossoms when the whales arrive, and the blossoms drop when they move on.
Along the way, we also saw the solitary mountain peak used represent the mythical Bali Hai in the movie of the same name.
We returned back to base to chill, chat and drink some sweet rum drinks. Listened to Tina Turner, Shaggy, Sting and John Legend.
Flying to Raietea tomorrow…time to eat everything in the fridge.  William cooked up some awesome stir fry and seasoned some tomato slices. Mom selected the wine. Tres Bon.
Internet back up!
Back to Album Directory
Day One
Day Two
Day Three
Day Four
Day Five
Day Six
Day Seven
Day Eight
Day Nine
Day Ten
Day Eleven
Day Twelve
Day Thirteen
Day Fourteen
Day Fifteen
Day Sixteen
Day Seventeen