Sailing in French Polynesia –
Day Nine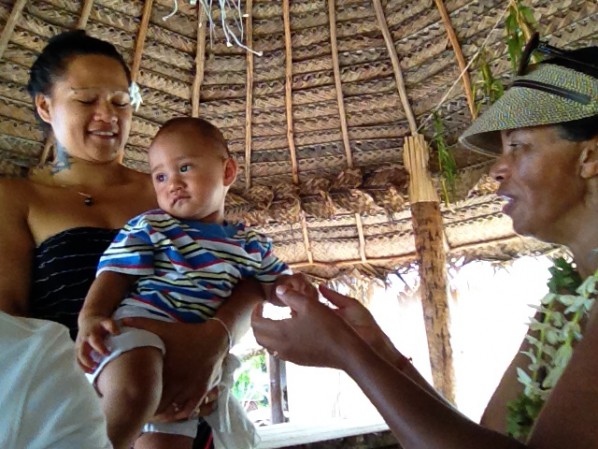 The Heart of Darkness
Today we voyage to the island of Bora Bora, the heart of darkness 😉
We awoke to roosters on the vanilla island. Mom was already up, having her coffee, and Roger was out swabbing the deck. It rained during the night.
We had breakfast at Ficus. Shrimp omelets, papaya, bananas, bagettes, croissents, donuts, juice, coffee and coco. Jeremy played guitar for us while we ate.
We asked about where to buy pearls, and Jeremy lead us down the road to visit Champion Pearl Farm, and introduced us to the owner. The proprietress taught us how pearls are cultured, and displayed trays from her safe full of loose and set pearls for our perusal.
Meanwhile, Ben's wayward luggage was delivered by speedboat to our mooring on Apu bay, and we were ready to depart for Bora Bora.   We sailed through a squall…10′ swells…25kt gusts…lost visibility…the wind hit 30kts at one point.  Sailed on instruments until it passed.
A second squall bypassed us to the west. Whew!
Roger's hat got caught in a gust and blew off. Deb maneuvered to find the hat.  It was a pretty good impromptu man overboard drill.  Success! Roger doesn't have to buy a new hat. I want Deb at the helm if I ever fall overboard.
We grabbed a mooring ball at the restaurant Bloody Mary's, but they were closed.   So, we grilled steaks on board. Two red wines: a spanish blend and a nice cabernet sauvingnon.
More rum drinks and talked about how Suzanna's son won some national media notoriety by effectively discredited the Harvard studies which had been used to justify world bank imposed austerity programs.  She also told us how she and Roger met in Hawaii.   We also talked a little about race and class in America.  Great conversation.
On the Bose system: Buena Vista Social Club, Taj Mahal, Kulanjan  and Charles Trenet.
Back to Album Directory
Day One
Day Two
Day Three
Day Four
Day Five
Day Six
Day Seven
Day Eight
Day Nine
Day Ten
Day Eleven
Day Twelve
Day Thirteen
Day Fourteen
Day Fifteen
Day Sixteen
Day Seventeen