Sailing in French Polynesia –
Day Seven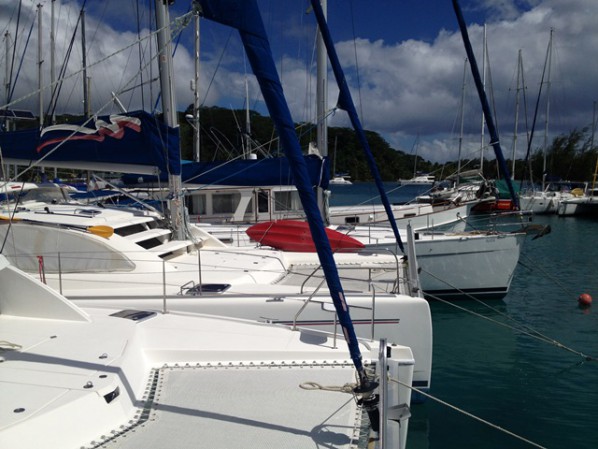 The Professor and Marianne
We grab a continental breakfast at the resort before checking-out.  We talked about avoiding carbs and how to jail break your old iPhone for international use.
Mom, Suzanne and William went to Champion's for provisions while Deb, Roger and I go ahead to do a boat check and chart briefing at the marina. Our boat was the Paere IV.
Roger and I familiarize ourselves with the running rigging.
Everyone arrives with provisions. We load the fridge and freezer. Meanwhile, an electrician fixes the port air conditioning.
Mom and Deb watched the sunset from a restaurant in the marina and returned to the boat to chill on deck. Meanwhile, William, Roger, Suzanne and I went to Uturoa to find a SIM card for Roger's phone, and I wanted to look for a water proof case for my phone.
I strolled over to Wister's yacht.  He gave me a tour and introduced me to his crew.  He added a fresh water maker and enhanced the engines.  He also added huge spools of extra line for anchoring the stern on the beach.   Said he bought the boat 5 years ago, having never sailed before.  It was originally built in 1985.  He added 75% to the cost of the boat in improvements in getting ready for this New Zealand crossing.   Will sell boat and go home when he hits New Zealand.  His story about being lashed to the wheel for 55 hours during a storm in the middle of the Pacific was enough to kill any fantasies I may have been entertaining about intercontinental sailing.
We chilled at Cubana, and got our last fix of free wireless service for a while. Texted. Emailed. Sent photos.
The cuisine at all the restaurants has been a French Asian fusion. Here too. No Polynesian food (other than the fruit and drinks). No Cuban cuisine either, despite the name. I had grilled veggies and the best Poulet Citroen I've ever had.
Back to the boat for bed.  We cast off in the morning.
Day One
Day Two
Day Three
Day Four
Day Five
Day Six
Day Seven
Day Eight
Day Nine
Day Ten
Day Eleven
Day Twelve
Day Thirteen
Day Fourteen
Day Fifteen
Day Sixteen
Day Seventeen