Sailing in French Polynesia –
Day Six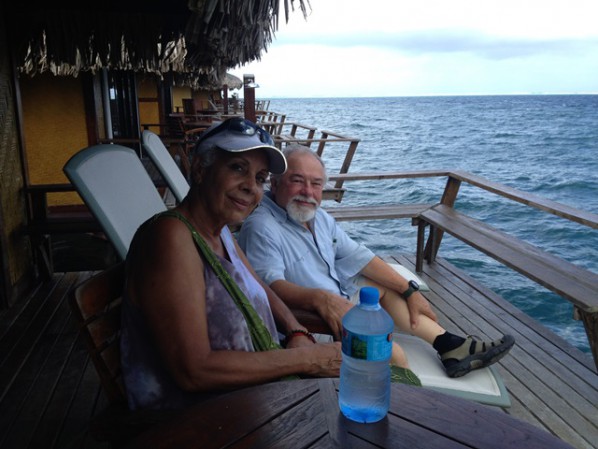 We Meet the Intrepid Mr. Wister
Continental breakfast.
Roger and Suzanna arrive.
Suzanna joins us for a walk to town, Uturoa, & the marche.  There's just a light drizzle.  Suzanna helped me us buy Buddhist-style tiger eye bracelets. Shop keeper also gave us red string bracelets blessed by the Dali Lama.
Scoped out a supermarket for provisioning the boat.
Found a waterfront bistro, Cubana, in the marina where we relaxed and had a beer with Wister, an American who was sailing his 45′ boat from the Gulf of Mexico to New Zealand. He picked up crew along the way on crewfinder.com.  One previous crew person turned out to be a convicted felon…He's glad she isn't on the boat anymore.
We took some pix of the super yacht "Glazed" which was docked at the marina.   Wister's sloop was tied-up right next to it.  It was flying an Australian flag, and locals told us a private jet arrived from Australia with  passengers.
Back at the hotel we hung out with Roger on his deck. Then, went over to William's bungalow for some rum drinks and crashed until dinner.
We tried a couple of new dishes: sashimi and a gizzard with mushroom salad.
Suzanna and Roger shared stories of sailing in Thailand, Australia and Greece. Also, of their trip to Ankor Wat in Cambodia.
Roger showed me a cool navigation app for the iPad/iPhone. Gotta get me one.
Early to bed. Big day tomorrow. We move to the yacht.
Back to Album Directory
Day One
Day Two
Day Three
Day Four
Day Five
Day Six
Day Seven
Day Eight
Day Nine
Day Ten
Day Eleven
Day Twelve
Day Thirteen
Day Fourteen
Day Fifteen
Day Sixteen
Day Seventeen