Sailing in French Polynesia –
Day Sixteen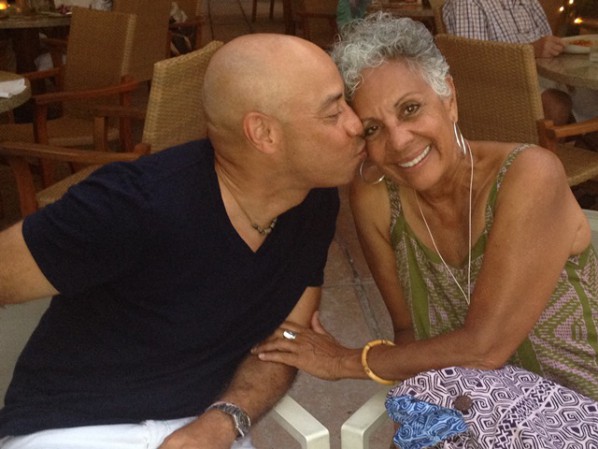 The Last Resort
Luckily, I got some sleep on the plane. We arrived at 5:30a in Honolulu. Same time zone as Tahiti.
We got settled in our room on the 29th floor of the rainbow tower of the 23-acre Hilton Hawaiian Village. Great views of Waikiki beach and Diamond Head.
We grabbed a quick bite at the buffet near the pool, and had the concierge book us spa treatments. I hit the jacuzzi, took a steam and enjoyed a much needed deep tissue massage. We both agreed that the masseur was awesome. Ask for Bobby at the Mandara Spa.
Mom checked out the shops… She fell in love with the Noa Noa boutique. Lots of batik print dresses. Meanwhile, I bought some new leashes for my sunglasses and struggled to attach them. Argh!
After a nap, we strolled over to The House Without a Key at Halekalani Resort for drinks and sashimi, where we watched the sunset, and a rainbow appeared over my mom's head…replacing her usual halo.
The concierge made us reservations at Hoku at the Kahala Resort on the other side of Diamond Head. A client told me it is actually better than Alan Wong's, which is reputed to be the best restaurant in Honolulu.
In the meantime, more shopping with Mom. Eureka! She found some glasses to replace the ones that went overboard.
At dinner, we had a deep fried rice ball of ahi poke, seaweed and sesame seeds; sauteed scallops with pork bellies and fois gras. Pretty tasty, and a nice alternative to Alan Wong's and Nobu. Great service, and it's away from the crowds at Waikiki.
A very nice way to end our trip.
Back to Album Directory
Day One
Day Two
Day Three
Day Four
Day Five
Day Six
Day Seven
Day Eight
Day Nine
Day Ten
Day Eleven
Day Twelve
Day Thirteen
Day Fourteen
Day Fifteen
Day Sixteen
Day Seventeen