Sailing in French Polynesia –
Day Twelve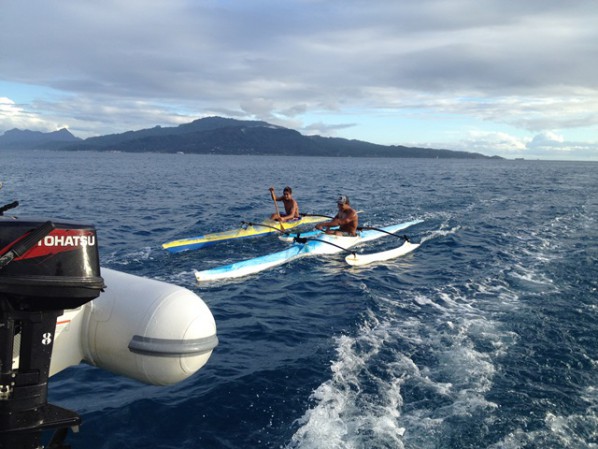 Hidden Harbor
We woke up early to explore the coral garden south of Pointe Taurare. Mom, Deborah, Roger, Suzanne and I took the dingy to the south facing beach. I tied up the dingy on a fallen Palm Tree. I didn't feel comfortable bringing a camera. Too bad. The beach itself was covered with coral and sea shells…literally covered all the way to the high water line. I wish I had a picture.
There were several coral heads just off the beach where we snorkled. I saw mostly neon colored blue, and yellow faced fish with black and white hashed stripes. Roger and my mom saw a stingray while I was fooling around with my mask. Ratts!
Back to the boat and navigating our cat out of the maze of shallow water and coral heads. We mastered it! Motor sailed back to Taha'a in 4 hrs, and managed to avoid two squalls. Ben told me a story about Admiral Nelson's defeat of the French in the Virgin Islands by hiding his fleet in a hidden harbor.  He attacked them from the rear by surprise.
Visually locating the pass back into the lagoon around Taha'a was pretty hard.  But, the chart was clear.  It was a half mile south of where one would expect to find it.  It reminded me of Admiral Nelson's hidden harbor.
I brought the boat back in through the pass and north to the anchorage near the Taha'a Private Island Resort.  It has a four star restaurant, reputed to be the best on the island….couldn't get reservations though.
So, Deborah motored us to Hibiscus restaurant on the opposite side of the island.  As we made the passage, three kids in racing outriggers slipped in behind us and rode our wake. They were bad ass…paddling at 6.5 knots.
At Hibiscus, I picked up a mooring and happy hour began. Two drinks in, and I was feeling pretty damn good.
After sunset, the sky was amazing. There were so many more stars than I'm used to seeing in LA that I couldn't recognize any constellations.  I could see the Milky Way clearly. Wow!
We cleaned up and took the dingy over to Hibiscus. It was a moonless night and our flashlights were not strong enough to give us any meaningful visibility.   So, we accidentally ran into a turtle pen next to the restaurant's dingy dock.  Marc came out to greet us and had to rescued us instead.
Hibiscus looked like it could have been in the south of France. We met some friendly folks from San Diego at the next table. They were on another catamaran. The owner, Leo, showed us stacks of guestbooks and newspaper clippings of his daughter, 2004 Miss Tahiti. Marc did quadruple duties as greeter, dingy pilot, bartender and server….all masterfully. He made some good suggestions, and was very attentive. He was wearing board shorts, a t-shirt and flip flops. Atmosphere casual. Cuisine, top-self. Everyone had either the Mahi Mahi with vanilla creme prix fixe or lobster a la carte. For desert, chocolate pudding, creme broule and fruit salad. I tried a new fruit called a star apple. Cut in half, it looks like an owls face. All were delicious, and beautifully presented.
We had to dingy back in the rain…nobody was dressed for it….kinda goofy fun.
In bed by eleven.
Back to Album Directory
Day One
Day Two
Day Three
Day Four
Day Five
Day Six
Day Seven
Day Eight
Day Nine
Day Ten
Day Eleven
Day Twelve
Day Thirteen
Day Fourteen
Day Fifteen
Day Sixteen
Day Seventeen