Sailing in French Polynesia –
Day Two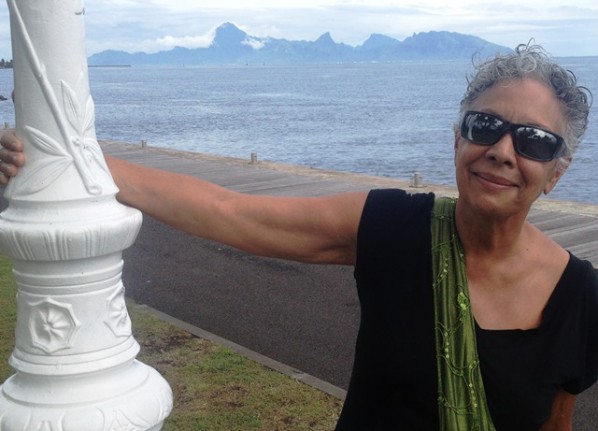 A Deluxe Apartment in the Sky
We woke up with the sun the next day…never seem to have any trouble getting out of bed on a vacation.  We had some tea and coffee.  Then, we took off to explore Pape'ete before more of our travel companions arrived later that day.  We walked through a beautiful waterfront park on Boulevard Pomare IV to town center.   We saw the ferry terminals to Moorea and a couple of mega-yachts.   The rest of town was shuttered.  The Marche (open air market) had just closed for the day,and all the restaurants were closed.   We finally found some groceries at a little convenience store…expensive!
7-day forecast: light rain and thunder at night.
After a little nap back at the apartment, the wireless crashed–had us thinking our international phone plans weren't working.  We were worried William, a frequent traveler on these group trips, wouldn't be able to reach us when he arrived.  He didn't know the address.  So, we were relived when he texted he was just entering customs.   His French is excellent.  So, we didn't send Mateata to fetch him.  He found his own way.   Once he got settled in his room, we got to know each other.  We listened to some Sarah Vaughn & Diana Reeves.  Had a cabernet and some cheese.  We talked about Turkey, Greece, Spain, William's colonial restoration in Bahia, biking in Napa, Portugal , the French Riviera, the canals and locks in the south of France,Thailand, biking in Berkeley, Vietnam, Croatia , St. Thomas (gritty), St. John (chic), St. Croix (nobody's been there), BVI and William's place in the 14th arrondissement.
Internet back up!  🙂  We checked and Deborah"s flight was coming in early!   Mateata drove Mom and William to airport to fetch her.
7-day forecast: no rain! 🙂
Deborah brought a Labor Day treat for us…BBQ ribs. We broke open more wine and sliced up some watermelon. William recalled chartering a 96′ yacht in Turkey with Deborah and Ben, and watching the crew provision the boat with watermelons.  It's a local favorite, and they served it in salads and desserts during their Adriatic cruise.   The ribs were delicious.
Deborah told us how William decorated his Parisian apt with exquisite finds from "Les Marches aux Puces." And, how she got swindled buying fine art prints that turned out to be matted pages torn out of a magazine.
Her husband Ben was delayed…invited to give a speech at the UN.  He'd arrive in 6 days, and Deborah asked him to bring some Omaha steaks that we can grill on the boat.
William and I stayed up late and got to know each other: talked about his passion for pediatric medicine, the vanishing middle class and the trade deficit with china.
Back to Album Directory
Day One
Day Two
Day Three
Day Four
Day Five
Day Six
Day Seven
Day Eight
Day Nine
Day Ten
Day Eleven
Day Twelve
Day Thirteen
Day Fourteen
Day Fifteen
Day Sixteen
Day Seventeen