Sailing in the South Pacific –
Day One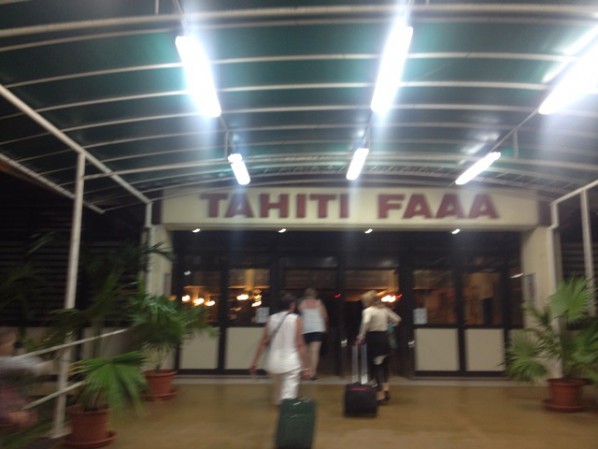 Eating Our Way Across the Pacific
This vacation began the moment we got to the airport.   I joined my mom at the airport Marriott, and we took the shuttle over to Hawaiian Airlines.    No line at the first class counter and the TSA expedited us through security.   Mom squirreled away snacks in the lounge, but we wouldn't need them.   They took our drink orders before take off and gave us menus offering shrimp and escargot appetizers…Napoleons and chicken misala & couscous.   So, to be difficult, I asked for the cabbage chow mein they were serving in coach.   No problem.  I watched the Jonny Depp movie Transcendence, then listened to the Doors and Blondie.  Mom read some Gertrude Stein and watched a movie in Japanese.  Who knew she was a connoisseur of Asian cinema?  Before long, we were beginning our descent to Honolulu.
What to do while waiting or our connecting flight to Pape'ete?   Eat!   I had a delicious chopped steak salad and split some hot wings with my mom.  While waiting at the gate in Honolulu, we met Don Chapman.  He's a restaurateur in Moorea, Tahiti's sister island, and he recommended Dave's Tours and of course, his restaurant in Moorea.
We had pot stickers and roasted chicken on the 2nd leg of the trip.   More Japanese cinema for mom, and I watched Leslie Mann, Cameron Diaz and Kate Upton in The Other Woman…very funny.
A local young lady, Mateata,  greeted us outside customs and took us to the vacation rental…a 2-story, 3-bedroom penthouse on Boulevard de Reine Pomare IV.  It had a massive wrap-around terrace and view of the harbor and the hills.  Mateata spoke little English.  So, my French got an immediate work out.   Somehow, we worked out all the details.  We got settled and crashed.
7-day forecast: rain and thunder.  🙁
Back to Album Directory
Day One