The Perfect Home for the Incredible Burt Wonderstone (video)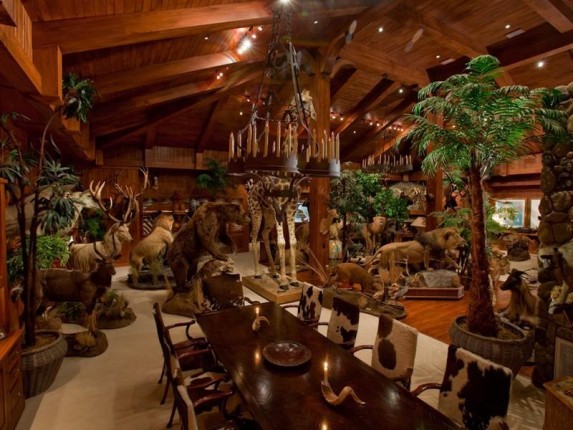 "I've found homes for all sorts of people, but magicians are…..well, they are different," says Beverly Hills realtor, Drew de la Houssaye. "Successful magicians tend to live in very eccentric homes, with room to display oddities or magic collectables. Those working with animals may also need space for their lions and tigers to roam around. What if Burt Wonderstone walked into his office? "I would immediately show him the Wonderland estate in Las Vegas."
The Wonderland (aka Primm) estate is a gated 10-acre compound with 21,000 sq ft of living space, 10 bedrooms and 19 baths, currently on the market for $16 million.
The lavish estate would suit the Vegas performer's over-the-top sensibilities, while giving him every amenity he could imagine. First of all, it's a great location. It's just a short drive to the Strip where Mr. Wonderstone's headlines, and it's close to his magician buddies. Criss Angel, Penn Jillette (of Penn & Teller), Siegfried & Roy and Lance Burton (formally of the Monte Carlo) all live in town.
The 15,000 sq' main house has a trophy room full of stuffed and mounted wild animals and a speaker system that plays animal noises in the background. The home also has a 20-car showroom/garage, a 5000 bottle wine cellar and tasting room, an elevator, a home theater…great for impromptu magic shows, a home gym, a library, private casino, a professional beauty parlor, 2-story living room with a 25-foot fireplace, basement shooting range, secret passageways, safe room and underground tunnels.
The compound also includes a 5000 sq ft guest house and a 1500 sq ft staff quarters. The guest house could house Wonderstone's extensive collection of magic memorabilia, and every magician needs a staff quarters for his assistants. There is a car wash, gas station, indoor-outdoor dog villa, and 8-stall stable, riding arena, trainer's quarters, driving range, spa, pool with waterfalls, waterside and a guest suite carved into the side of the grotto.
Formally known as the Primm estate, the property was rechristened, "Wonderland" by Michael Jackson who saw the property as his new Neverland ranch. He didn't live long enough to actually complete the purchase, and it remains on the market. For more info (photos & video): ZillowBlog.com or the Las Vegas Sun.
The home is modest compared to Siegfried & Roy's long-time Las Vegas residence the 100-acre "Little Bavaria." The main house is done in a Moorish-style and filled with art and artifacts from around the world, in the manner of a Victorian treasure house. The estate provided the duo a place for their tigers to run wild and swim under their own waterfall.
Luxor magician Criss Angel renovated a $25 million 22,000 sq ft guard-gated Mediterranean hacienda with Gothic influences which he has named, "Serenity." Criss uses the home to display his extensive collection angels and crucifixes. Also on display is his collection of magic memorabilia, including Houdini's handcuffs. The 2 ½ acre estate also includes a bronze sculpture garden, a 14-car garage, a game room, office, Olympic gym, home theater and an infinity pool. For more see: the Wall Street Journal or Vegas Deluxe.
Lance Burton and Penn Jillette both opted for quirky post-modern homes designed by Colin Summers. Burton lopped off the top of a 10-acre mountain to build his 15,000 sq ft 6 bedroom 6 ½ bath castle. His home is also filled with magic collectibles, and is designed for entertaining according to the LA Times. For an aerial image: VirtualGlobtrotting.com.
The home Summers designed for Jillette resembles a prison from the outside: hence its name, "The Slammer." The home is built from institutional grade materials and access is granted through a motorized barbed-wire fence. Once inside, we discover an adult fun house complete with its own psychedelic lounge and a dungeon in the master suite. Visitors must pose for digital mug shots upon arrival, and may enjoy Penn's collection of carnival artifacts and erotic art. "It's the house of a 12-year-old with a lot of money," says Penn Jillette of his decor.
Though he is a regular performer in Las Vegas, David Copperfield's main residence is a 4-story apartment in New York. In Las Vegas 40 weeks per year, he stays at the MGM SkyLOFTs and keeps a place for family nearby which houses much of his extensive antique magic collection. Where does he go to get away from it all? He goes to his own private Bahamian island…Musha Cay. The island residence has a Houdini room and its own movie theater. Copperfield is a movie lover. For more see (photos): HGTV's Frontdoor or MushaCay.com.
If Mr. Wonderstone wanted his own magician's lair to get away from it all? "I would show him Broad Key in Key Largo, Florida," says agent De la Houssaye. Broad Key is a 63-acre private island currently on the market for $20 million. It has an understated 5 bedroom 6 bath home that could be torn down or renovated. There is also a caretaker's cottage, guest house, boat house and dock. Other amenities include water storage, a solar-powered generator, satellite communications and a security system. The home is adjacent to the Ocean Reef club, and the new owner could also enjoy all of the amenities of the club has to offer. "Islands provide privacy. It's a perfect place to live for someone who has a lot of secrets." For more info (photos): Mary Lee Presents Ocean Reef Properties.