Greystone Mansion – Beverly Hills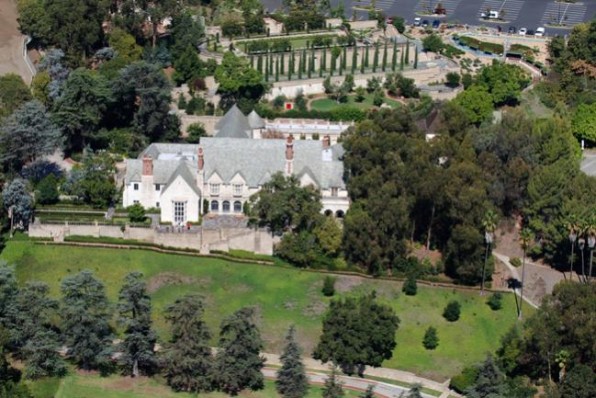 This notable 46,000 sq ft home is known to most people from numerous '70s TV shows and decades of motion pictures. Hollywood and Greystone have a lot of history together. The home was featured in "There will be Blood", "The Witches of Eastwick", "The Fabulous Baker Boys", "The Bodyguard", "The Phantom", "Batman & Robin", "Air Force One", "What Women Want", "Rush Hour", "The Big Lebowski", "X-men", "Spiderman", "The Social Network" and "The Muppets."
Edward Doheny and his partner Charles Canfield were the first people to discover oil in Los Angeles, in 1892. In 1926 he built Greystone on 12 acres of land as a gift for his son Ned. Ned only lived in the house four months before being found dead in an apparent suicide pact with his personal assistant. He was 36 years old.
The house was designed by Gordon Kaufman. The gardens were designed by landscape architect Paul Thiene.
His father was most famous for his involvement in the federal bribery scandal, Teapot Dome.
Ned's widow Lucy would eventually sell the adjacent 429 acre Doheny Ranch to Paul Trousdale, who sub-divided the property and developed Trousdale Estates. She sold the house to Henry Crown, the owner of the Empire State Building, who regularly made it available for television productions. The property in now operated as a park by the City of Beverly Hills.
905 Loma Vista Drive, Beverly Hills