Lamborghini Huracan Test Drive Event – Malibu, CA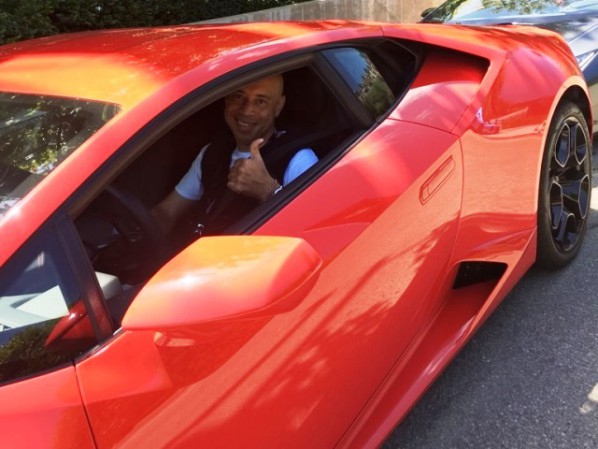 Ok. First let me say, I need to go to Malibu more often. I took the top down and cruised up PCH to a Lamborghini test drive event. The coast was beautiful, and it was an amazingly perfect Southern California day. I shouldn't need a special event as an excuse to visit one of the most scenic communities in the area. I pledge to make it out there more often….It was just lovely.
Now, about the event…Wow! There were two professional drivers: Kevin Conway and Sean Michimi. Kevin took point in an Aventador while 7 or 8 of us followed in beautiful Huracan 610-4s, 580-2s, coupes and spyders. I drove one of the 580-2 coupes. We were supposed to drive a 12 mile route through the canyons above Malibu, but I lost sight of the convoy. I ended up driving a 20 mile course, instead. I was the last one back to base, and needless to say everyone was relieved when I finally showed up with their $200,000.00 super car.
I'd heard many stories of people not being prepared for all the power and responsiveness of supercars, and they wrap the cars around light poles. I was also warned that I would have to drive a stick, which I haven't done since my Porsche and my Pinto…30+ years ago. Well, during the orientation, they explained that the new dual clutch engine made the car much easier to drive, and the cars were configured with both manual and automatic transmissions. So, that was a relief.
There was a push-button starter, settings for street, sport and racing, a steering column paddle shifter, a switch for signaling and lifter to raise the car for dips, bumps, etc…. The dash was overwhelming…nothing was familiar…it was like sitting in an alien spacecraft…very high-tech.
On PCH, the car was a head-turner. When you get stopped at a light, people just stare, and others shout out affirmations.
In the canyon, lots of people honked their horns as they passed in the opposite direction, and a few people stood on the shoulder and took pictures with their camera phones. These cars are stars with real charisma. After driving a while, I calmed down, and got very comfortable behind the wheel. It was the most stable car I've ever driven on canyon roads…like its glued to the road.
Back at the base, I returned the car to the Lamborghini crew so they could start the next caravan.
The car left me simultaneously a little weak in the knees and exhilarated. I also felt an unexpected side-effect: a jolt of testosterone. I was ready for a cage fight, followed by some anonymous sex. They should put a warning label on these things.
Overall…one of the best experiences of my life…really fun.
Pop-up test drive events like this one are designed to promote awareness of a variety of driver experiences offered by Lamborghini. Here are some of those offerings:
EXPERIENZA
Designed to highlight performance, power and control, Esperienza tests the limits of a Lamborghini and its driver on some of the world's most prominent tracks. These half-day events are designed to introduce those considering Lamborghini for their next super sports car to the exceptional lifestyle that comes with it, along with the unique opportunity to study challenging race maneuvers in one of the world's most powerful vehicles. After gourmet refreshments and world-class hospitality in the opulent Lamborghini Lounge, attendees will put their lessons to the test with full-track lapping sessions guided by professional Lamborghini instructors.
ACCADEMIA
Explore the full potential of the complete Lamborghini range and savor extended time behind the wheel at Accademia – a profound driving program that lives in a category of its own. During these multi-day, owner-exclusive events, attendees receive personal driver training from professionals with racing credits in F1, Indy Car, Super Trofeo and others, while embarking on the path to Lamborghini driving mastery. At Track Accademia, owners advance their expertise by taking on the world's most prestigious tracks, including Imola, Hockenheim, Laguna Seca, Circuit of the Americas and others.
PILOTA
Limited to only an exclusive few, this action-packed event is designed to test your skills and facilitate your immersion into the world of super sports car racing with Lamborghini as your guide.
For its second installment in the United States, Lamborghini will take Pilota to the renowned Las Vegas Motor Speedway, where guests will have the rare chance to test their on-track prowess and encounter the closest thing to real racing real racing on a professional circuit.
First-class hospitality and extravagant accommodations at the Aria Resort and Casino complete the package, rendering an already unparalleled experience all the more enticing.
In addition, Pilota Lamborghini promotes your advancement in the action-packed world of motorsport, as completion of the program awards you a rarely given qualification to apply for an IMSA-FIA racing license, which is a requisite to compete in professional races, such as the International GT Championships or the Lamborghini Super Trofeo.
SUPER TROFEO
Watch what happens when unrivaled power and peerless agility are put in the hands of the professionals at what is arguably the most impressive international one-make series in the world: Super Trofeo. An entry point into the world of professional motorsports, Super Trofeo provides an opportunity for amateur drivers to naturally develop, and pros an occasion to demonstrate their exceptional skill. As a spectator, you'd be hard pressed to find a more thrilling and luxurious view of a Lamborghini in action. You'll indulge in the finest trackside hospitality while in the company of fellow motorsport enthusiasts as drivers traverse world-class tracks all over North America.
GIRO
Each year, a select group of Lamborghini owners gather in the most distinctive cities in America and embark on a five-day driving experience that illustrates how the world of Lamborghini extends far beyond the road. The time has come for the 2016 edition of our most exclusive annual event: Lamborghini Giro. This year's five-day, four-night excursion will take our guests along the breathtaking mountain roads of Utah, Idaho and Wyoming, with relaxing moments at five-star accommodations settled between top-tier dining and invigorating activities. All this, amidst the open expanses of the West and the humbling shadow of staggering natural wonders.
The test drive event was held in conjunction with the open house for a hillside contemporary modern estate with expansive ocean views: 6261 Tantalus Drive Malibu, California. 5 br | 6 ba | 6,884 sq ft. Offered at $9,880,000. Listed with The Agency and Partners' Trust.
For a schedule of upcoming driver experiences and to make reservations: LamborghiniAllAccess.com.