Jessica's 21st Birthday – Las Vegas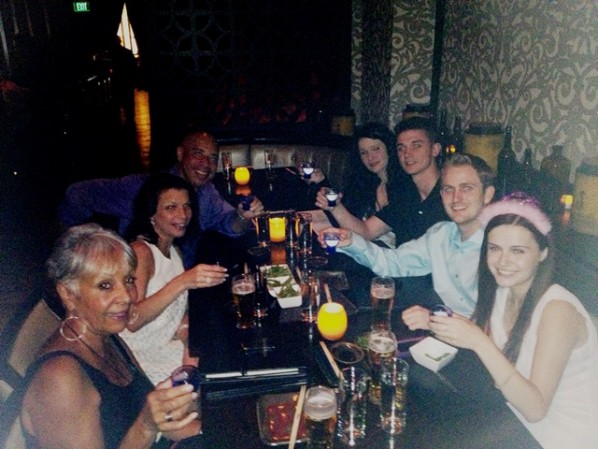 Rebecca hosted a 21st birthday bash in Las Vegas for her daughter Jessie, over this Memorial Day weekend.
From the moment the car picked us up at the airport until we departed, our feet never touched the ground. We stayed at the Aria Sky Suites and went upstairs to check out our matching 2br 2.5ba penthouse suites. We were greeted with Champagne, and the curtains automatically opened revealing spectacular views. The rooms were elegantly done with many tasteful and smart design elements that have been popular in high-end homes the last few years. If you are thinking of renovating a home in a contemporary modern style, check out the gallery link for some inspiration. The Aria hotel itself is a beautiful example of boldly optimistic 21st century post-modern architecture.
We had a delicious birthday dinner at Social House, opened presents and enjoyed some cake. Afterwards, the grown-folks went out for drinks, and the kids explored the strip.
We spent the next day pool-side, and Adrian and Connie, our cabana hosts, made sure we wanted for nothing. Afterwards, we went to see Cirque de Soleil's "O" at the Bellagio. It was a magical experience, and several people told us it is the best Cirque show in Las Vegas.
Rebecca, you rock! Thank you for a wonderful weekend.
---
In the photos: checking out our rooms, dinner at Social House, pool-side, an awesome Kobe burger, my poor sunglasses after Mom stepped on them, views of the hotel and the pool area, and everyone relaxed and happy right before heading home.
People: Me, Rebecca, Mom, Jessica, Brian, Brooke and Chris.